Food 4 Patriots – Free 72 Hour Food Kit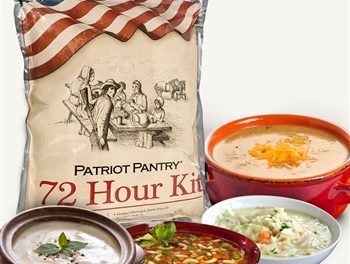 Food 4 Patriots provides a number of excellent survival and food preparedness kits, many of which give you exactly what you need to stay healthy in a crisis. Designed and created by Frank Bates, the company owner of Food 4 Patriots, this food delivery site provides a number of excellent choices, including the Free 72 Hour Food Kit. Giving you exactly what you need for a full 72 hours, the unit includes plenty of items that will taste great and allow your family to eat well even if you are on the go during a disaster period.
What's in the Food 4 Patriots Free 72 Hour Food Supply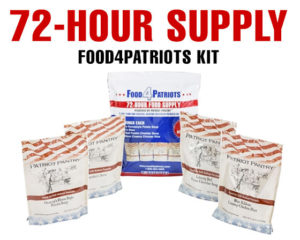 Food 4 Patriots supplies a number of items in this kit, including a full sixteen servings of fresh food items, the Survival Garden Guide, How to Cut Your Grocery Bills, a Water Survival Guide, and the 10 Item Sold Out After a Crisis Manual. Each of these guides helps you stay prepared in a crisis and learn the exact steps you need to take to get ready.
Food Items Included
Within the Food 4 Patriots kit, you will get delicious recipes such as Liberty Belly Potato Cheddar Soup, Blue Ribbon Creamy Chicken Rice, Traveler's Stew, and Granny's Home Style Potato Soup. You will also get a number of beef stews, desserts, and other items that taste great and give you all the nutrition you need to stay healthy.
Food 4 Patriots Kit Specifications
A number of important specifications are part of the Food 4 Patriots backing and brand. Each item inside the kit is GMO free, chemical free, and simple to store and keep stored safely. None of the food items in this kit are prepared in an unhealthy way of freeze driver, instead using low heat dehydration to dry your food — and then place it inside high efficiency packaging from Mylar units. This helps keep the food fresh for more than twenty five years at a time, while also keeping all the essential vitamins and nutrients inside.
Nutritional Quality
Food 4 Patriots provides some of the healthiest and most nutrient dense survival food, as their packages only include fresh items plucked and grown straight from the garden. Unlike some other food preparedness items, these food supplies are packaged using only the highest quality preparation methods, so that all the nutritional value is left intact. No matter how long you may need to store your food, it will remain fresh and healthy for years.
Simple Preparation Methods
One of the great things about Food 4 Patriots survival kits is how easy they are to prepare. All you need to do for most of the recipes is simply add boiling water, which will give you everything you need to adequately prepare each of your recipes. Packaged in a way that makes preparation simple, this 25-year long survival food kit is a great choice for ensuring your family is ready even in the worst of crisis situations.
User Reviews
Many who have sampled the Food 4 Patriots 72 Hour Survival Kit, along with other items from their line, have reviewed the product highly. Users often highlight the great taste of these items, as well as the fact they are fresh, backed by a full year money back guarantee, and made in the USA entirely. You can order Food 4 Patriots kits online, having them delivered straight to your doorstep.
One user, a father with a family of 4, said that the items in this kit gave him exactly what he needed to know for sure he could survive even the worst of disasters. Knowing his family would be well fed and given the highest quality nutrition was very important to his peace of mind, which he was able to get after ordering this supply. He then went on to order larger supplies of the survival food offered through this kit, after sampling it to see the taste and ease of preparation.
Conclusion
The Food 4 Patriots 72 Hour Survival Kit is a great way to start out using the products from this delicious survival food preparedness line. You'll be able to stockpile plenty of tasty provisions while ensuring that you are prepared even in the worst of disasters. For those who truly want to be ready in a crisis situation, Food 4 Patriots offers a steady line of nutritionally-dense food packages, each of which will give you exactly what you need.