Food4Patriots Review – Survival Food Kits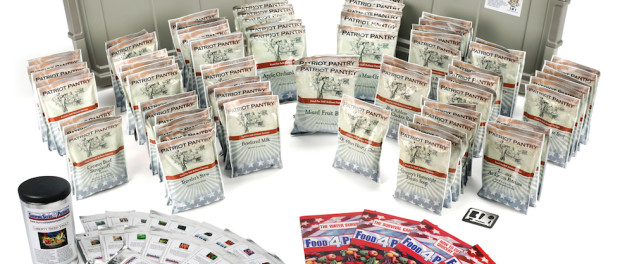 We live in a day and age where natural disasters and wars are inevitable. The day when grocery stores and restaurants will close, when electricity is down, and just about everything that's normal will stop. How do you survive?
The 3 most important things to survive are food, water, and shelter. You can pretty much prepare for these things when there are advanced warnings, such as when hurricanes are about to occur or when an impending riot or social instability is about to take place. But can you prepare for a 3-day disaster with no electricity or communication to the outside world?
Helping you prepare for the worst is Food4Patriots, which sells prepackaged survival food kits when worse comes to worst and you are at the mercy of your own preparation when it comes to survival. Or, if you just one to bring some packaged foods when you plan on camping for several days out in the woods. Whatever needs you may have in terms of long-term food supply, Food4Patriots is the leading food kit provider in the market to meet your every need.

About Food4Patriots
The company that offers these kits is 4Patriots, LLC, which is based in Nashville, Tennessee. The company offers a range of survival gear and equipment, as well as food survival kits. They currently offer three different packs, which are their 72-hour kit, 4-week kit, and the 3-month kit (more details will be provided in the later parts of the review).
Other products offered by the company include their meat and protein kit, a deluxe coffee kit, and a fruit, vegetables, and snack mix kit. They also have water filtering systems and other products with the same mission of providing top quality products that help people become more self-reliant and self-dependent should the need arise for people to fend for themselves in emergency situations.
How the Kits Came About
The founder, Frank Bates, had already been making food survival kits for himself, his family, and a small number of friends. This all changed when a friend and colleague of Bates' received an email from FEMA, which stands for Federal Emergency Management Agency, whose main responsibility is providing emergency food supply and other supplies to people in need during disasters and other disastrous events.
The content of this email included inquiries by FEMA regarding the amount of food kits Bates has, as well as his capacity to produce and supply the kits. This sent a chilling warning to Bates that FEMA might monopolize their survival kits and be given only to a select few.
Bates and company decided to reject FEMA's offering for their food kits and to make their products readily available to the general population.
And thus, Food4Patriots was born, with the aim of providing high quality survival food kits that can last for a maximum of 25 years in storage.
How Food4Patriots Works
All of the food inside the kits are processed in the USA, meeting the stringent standards and guaranteeing that not only do they truly last for several years, but that they're actually delicious and nutritious.
All ingredients used are of top quality, with no GMO ingredients, and no harsh preservatives present. Unlike most food kits available in the market, the Food4Patriots process is not freeze drying. Let's discuss why this is so important.
Freeze drying is not just unhealthy, but it makes food feel chalky and bland. Freeze drying is the process of freezing food by storing them in a freezer or applying chemicals that freeze food. The latter helps food kits last longer but they're bad for the body.
Food4Patriots uses a low heat dehydration process which does not make use of any chemicals, and even locks in flavor and nutrients. And to top it off, a special type of packaging is used, which is a space-age, unobtrusive material called Mylar.
Food4Patriots food kits will last for a full 25 years, easy to store, and only need boiling water to prepare the food.
How to Buy Food4Patriots
You can get your food kits from the official website, which you can get to by following the banner below. Here are the different packages:
1. The 72-Hour Kit with 16 Servings of Food
2. The 4-Week Kit with 104 Servings of Food
3. The 3-Month Kit with 356 Servings of Food
Samples of the food or meals are: Traveler's Stew, Blue Ribbon Chicken Rice, Vegetable Beef Stew, Granny's Homestyle Potato Soup, Apple Orchard Meal, Mountain Man Granola, Southwest Enchilada Soup, and many other delicious and nutritious meals.
Each package comes with bonus products such as "The Water Survival Guide" to help you locate water during emergency situations, as well as the "Top 10 Items Sold Out After Crisis" guide, and a number of other bonuses.
Although you probably won't see the value of these kits right of this moment since everything is running smoothly, it is always safe to prepare for the worst case scenario.
The difference between a person who survives a catastrophe versus someone who doesn't is preparation. Don't be the latter. Get your Food4Patriots food survival kits today and finally have the peace of mind that you deserve.