Patriot Power Generator 1500 Review: Portable Emergency Power?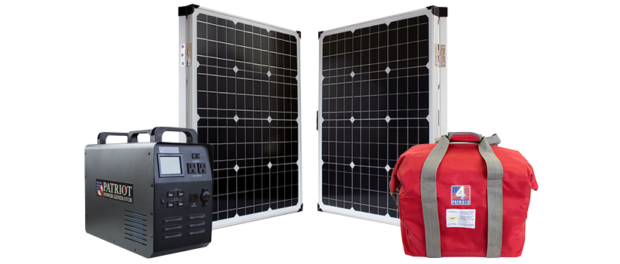 One of the leading new sources of power generation methods for savvy consumers everywhere, The Patriot Power Generator 1500 has the capability to keep you and your family safe and sound for many months even if the worst disaster strikes. As any cautious survivalist knows, economic and natural disasters are always looming on the horizon.
Being ready for the worst is the most important way you can keep yourself and your family safe in the event of a major catastrophe. The Patriot Power Generator will help you do just that.
How The Patriot Power Generator 1500 Works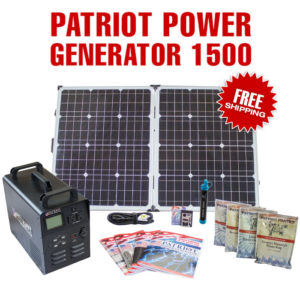 Featuring a one hundred watt solar panel cell area that folds and includes Bosch-crafted panels, the power generator is also fully charged upon receiving it in the mail. You will also find a twenty five foot long cord for the panel, giving it plenty of capability to simply "plug and play."
Using the panel is quite simple: you just et up each panel on the ground, then plug it into a supply of power — either portable or land based. Then just plug any devices you need to charge into the generator and you're ready to go.
The best thing about this power generator is that it also includes survival kits for food, a water filtration system, and a multi tool, among other items to help ensure your safety in the worst case scenario.
Another possibility, should you choose to go this route, is to buy a platinum solar panel package that includes an ion lithium battery that will actually continue to recharge as time goes on. This gives you a backup source for your generator.

Features of the Patriot Power Generator 1500
Including a number of great bonus features, the Patriot Power Generator includes a one year long charge holding time, 1500+ continuous watts, four usb outlets, a twelve volt dc outlet, and two 120 volt AC outlets.
You will also receive a three and half hour charge time as part of the generator's powerful design. You can charge it using the solar panels themselves or through a normal outlet in a conventional electrical space.
The generator includes more than two thousand life cycles, allowing it to go from its lowest battery capacity to a full charge more than two thousand times.
Why This Generator is So Important
Facing a crisis or disaster is something every family has to contend with on a daily basis. We simply never know when serious economic or financial disasters could strike. The stock market could collapse at any time. Or, natural disasters could occur, such as major floods, tornadoes, fires, hurricanes, and other terrible events.
In these situations, having plenty of food, water, and power is critical. The Patriot Power Generator allows you to have a fully charged source of power that you can easily recharge on the go wherever you are. Even if you have to constantly move to stay safe, this generator will be ready to supply you with plenty of power.
Additional Bonuses
The generator also comes with several pdf instructional manuals including the generator survival checklist and a blackout response guide. You will also learn about the three main dangers of our smart grid that cause potential for serious disasters to strike.
User Reviews
Those who have tested the generator find it to be one of the best available. Thanks to its numerous capabilities for keeping you safe and sound in the worst of disasters, you'll never have to worry about being without power. One user said she used it for a backup source of power in times when her main power unit when out.
Another user bought it as a backup source in case a major disaster does strike, and stores it in his garage for times of trouble. Both of these customers were very satisfied with the generator's build, design, sturdiness, and ease of charging.
Conclusion
If you're serious about being prepared for a major natural or manmade catastrophe, it's critical to have a source of power that will get you through tough times.
The Patriot Power Generator 1500 will give you just this peace of mind. Including a full refund policy that covers more than two months in case you aren't completely happy with your purchase, you can quickly ask for your money back if you wish. The company is a fully reputable and tested one, known as 4Patriots LLC.