Survival Frog TACT Bivvy Review: Prepper Must-Have?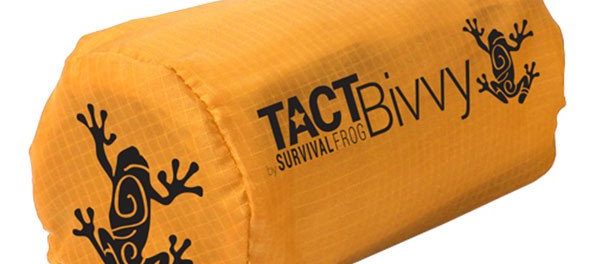 Survival Frog TACT Bivvy sleeping bags are super light, emergency-proof, and durable enough to hold up under extreme water or wind conditions. Designed to hold up under any situation, the TACT Bivvy emergency bag is color in bright orange to ensure that rescuers can quickly and easily find you. Including taped seams and the ability to compress into a very small sack, the Tact Bivvy bag allows you to affordably, easily carry the unit with you anywhere you go — while also reflecting more than 90% of body heat right back onto you.
Survival Frog TACT Bivvy: A Must-Have Survival Tool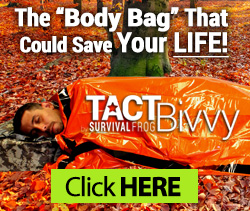 Allowing campers, survivalists, and preppers to carry the bag for use on its own or as a liner for another sleeping bag, this unit is a must have for anyone who plans to be outdoors overnight. Including taped seams and windproof and waterproof design, the unit is lightweight and durable. Invented by NASA, the material used to keep you warm in this bag is stronger than other sleeping bags — and will protect you in the most dangerous of conditions.
Life-saving Properties
In one scenario, the TACT Bivvy actually saved someone's life. An owner of a Bivvy Frog TACT bag was on a camping trip when she unfortunately had a leg accident. She was forced to remain immobile after receiving the shock, and her temperature started falling rapidly. By putting her in the Survival Frog TACT Bivvy bag, they were able to stabilize her temperature and keep the wound safe from exposure. When they got her to a secure area, they were able to wait out the rescue operation — ensuring she could quickly get to a hospital.
This makes the Bivvy a very important choice for those who will be out in the middle of the wilderness or anywhere far enough from civilization to warrant being stranded in cold scenarios. You can also keep one stored in the car in case it breaks down and you become stranded.
Ultra Warm
Since the Bivvy reflects more than ninety percent of body heat back, it will not let you get cold even in the harshest subzero temperatures. By simply getting in the bag, your temperature will increase its rating by at least twenty degrees.
Windproof and Waterproof
Designed to keep even the harshest, coldest weather out of your bag, the Bivvy protects all users from difficult conditions. Created form material meant to keep astronauts safe in outer space, the Survival Frog TACT Bivvy is taped at the seams to keep out any cold weather. Waterproof and windproof, this unit is the safest design for people who may be at risk of exposure.
Highly Durable
Designed to prevent tears and heat escaping, the Tact Bivvy features a special Mylar coating using technology known as Heatsheets. This special coating prevents tears and its highly stretchy and durable. Even if you roll over, scrape, cut, or accidentally put the bag in contact with sharp objects, it still won't break or cut. It also ensures that the heat in the bag stays trapped inside at all times.
User Reviews
Survivalists everywhere claim that the Bivvy is one of the best sleeping bags available. Not only are they safe and warm, but they last forever — and only cost $20, putting them at one of the most affordable prices for a bag of this quality. One user keeps at least 2 bags with him at all times, being a frequent traveler to cold areas. He finds it's best to keep one in his pack and one in his car in case of emergencies. When camping out in snowy, harsh climates, he uses the Bivvy to protect himself from ice and cold weather that could damage his health if he stayed outside too long.
Another user keeps several Survival Frog Tact Bivvy bags with him at his home location as a backup in case the electricity goes out or he just needs the peace of mind. These bags are extremely durable, he finds, and he now recommends them to his friends and family.
Conclusion
For survivalists, preppers, or anyone who intends to take a trip to the wild, the Survival Frog Tact Bivvy bag is an excellent sleeping bag that will hold up under the elements while providing plenty of heat. Rather than having to worry about being unsafe or at risk of being frozen by the elements, these units will allow you to sleep and rest peaceful in a nice cozy zip up bag.