Survival Seed Vault Review: Grow Heirloom Seeds at Home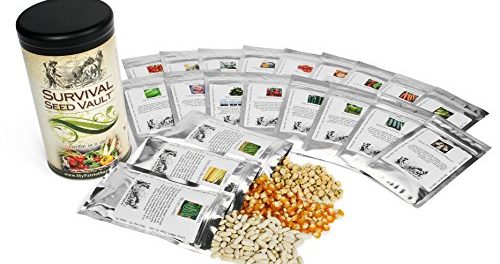 Survival Seed Vault is one of the top new prepping programs to ensure that you are well-prepared in the event of a major emergency. True survivalists understand the importance of having a good seed bank to make sure that you are ready to feed your family if disaster strikes. As a method of using heirloom seeds or non hybrid seeds, Survival Seed Vault ensures that you have everything you need to start growing a healthy garden full of vegetables and fruits even in the worst of disasters.
Survival Seed Vault Heirloom Seeds
Including a long-term emergency storage variety, Survival Seed Vault from My Patriot Supply is considered one of the best sources of easy to grow garden varsities. Includes 100% pure heirloom and non-hybrid seeds for higher germination rates. Survival Seed Vault's heirloom seeds include both vegetable growing methods and a seed saving guide that helps you grow what you need for long term emergency survival and storage needs. This unit is meant to help you continue to grow your garden for at least five years or more.
What's Inside
Within each can of Survival Seed Vault seeds, you will find more than twenty varieties that help to provide you with plenty of food. These include green sprouting broccoli, market more cucumber, romaine lettuce, red beets and sweet peas, and even butternut winter squash. You'll get enough seeds to last for years, with 100% of non GMO, non hybrid heirloom seeds packed and inspected within the U.S.
Plentiful, Fresh Seeds for Emergency Preparedness
Staying adequately prepped for disaster requires having the best seed types in plentiful quantities. If you have ever been in a survival situation, you know how critical it is to have plenty of different seed kit types that include staple vegetables. Staple vegetables are the kind that you need to make sure that you are adequately prepared in the worst events.
Included in Survival Seed Vault is broccoli, cucumber, romaine, and red beets. Other key staple vegetables are also part of the mix, making this one of the healthiest choices available for survival seeds. Additionally, the soup beans, dry beans, potatoes, carrots, squash, and sun root vegetables will help you to maintain a strong garden full of variety.
Seed Variety in Abundance
One of the great things about the spread of seeds that are included in Survival Seed Vault is that they help to maintain a strong seed variety. Variety is key so that you can stay healthy and still maintain a proper balance of nutrients in the event of an emergency situation. Survival Seed Vault's selection is carefully chosen to make sure that you are given exactly what you need even in the worst of emergencies when food and soil nutrients may be at a minimum.
Proper Growth Quality
Included in Survival Seed Vault is an instructional guide that shows you precisely how to maintain strong growing techniques for the survival garden you need to maintain. You'll learn how to choose a good area to grow in, as well as what to look for to make sure your plants will thrive and flourish. When choosing a seed kit, this is one of the most important aspects of proper growth and seed health, and should be included as part of the kit you choose. Fortunately, Survival Seed Vault has exactly what you need to ensure proper growth.
Survival Seed Vault is one of the most highly-rated sources of survival heirloom seeds available. Many users have discussed how easy it is to plant these seeds and then quickly begin to see them flourish. Unlike a number of other seed packages, this one proves to be simple for setup and continued maintenance over time.
One user, a serious prepper, found that he could quickly start to grow his survival garden thanks to the use of Survival Seed Vault. Unlike previous kits he had tried, Survival Seed Vault was adequate in terms of seed abundance, variety, and nutritional value. He recommends this kit to experienced and newbie preppers alike.
If you're serious about finding the best heirloom seed kits for survival necessities, Survival Seed Vault is one unit that should be included in your plans. Offered at an affordable price, these seeds give you everything you need to prepare a fully-nutritional, highly abundant garden even in the worst of emergency or survival situations.