XT808 LED Flashlight Review – Tactical Flashlight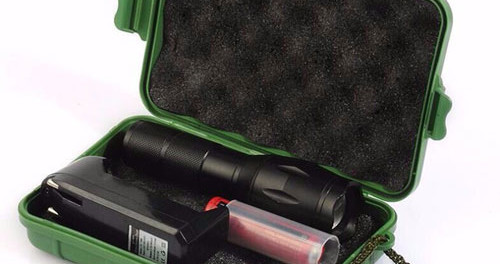 A flashlight is a necessity for outdoorsmen, adrenaline junkies, or for anyone who has the thirst for adventure. But a flashlight is more than just a piece of device that points a beam of light in the woods, it is an essential tool that can help you survive.
The XT808 LED Flashlight is a recently launched product that's fast becoming one of the best tactical flashlights in the market today. An industrial grade flashlight, it's currently being used by the military and policemen, which is evidence of how powerful and durable this device is.



Let's take a look at why XT808 LED flashlight could be the most important flashlight you could ever own.
What is the XT808 LED Flashlight?
The XT808 is a tactical flashlight specifically created for the outdoors. It is manufactured and sold by Primitive Outdoors, a relatively new company that's gaining ground and making a name for themselves in the industry for offering the finest quality products in the survival gear industry.
Based in the US, Primitive Outdoors' range of products include clothing, backpacks, tents, optics, lights, and just about everything you need to make camping, adventures, as well as search and rescue operations safer and more effective.
XT808 LED Flashlight is the company's latest release and is claimed to be so bright that it can blind a bear! You might think that this claim is for mere marketing purposes only but when you take a look at how bright this flashlight really is, which is 800 lumens of light, then you'll surely know they mean business.
The Features of the XT808 LED Flashlight
Aircraft-Grade Aluminum Alloy
The flashlight's casing is made entirely of aircraft-grade aluminum alloy, which is a tough, durable, and incredibly lightweight material. Made of the highest quality casing, this flashlight won't easily break if a heavy object lands on it or if you drop it from a high elevation.
5 Pre-set Modes
The 5 pre-set modes are as follows: high, medium, low, strobe, and SOS. These 5 modes allow you to use this flashlight for a variety of different applications. But the most unique mode is the SOS feature, which allows you to send a signal in cases of emergencies.
Telescoping Focus
Choose between 1x focus, 250x, 500x, and up to 2000x. If you need to point at an object right in front of you, or several hundreds of meters away, then you can easily do so with this device.
800 Lumens of Light
800 Lumens of light from a LED bulb allows you to point at an object 500 meters away, it's that bright. 800 Lumens is the equivalent of 60 Watts of light power. It also uses a Cree XM-L T6 Bulb, which is the standard for high quality tactical flashlights used by the military, the navy, policemen, firemen, and search and rescue teams.
Beveled Edge for Tactical Defense
The flashlight's edge is beveled, making it an effective device to hit aggressive targets. Whether it be an attacker or an animal trying to get at you, the flashlight's edge can make for an effective weapon that can create significant damage to deter them away.
Its other features include being 100% waterproof, the bulb providing 100,000 hours of light, and specs that include 4.9 oz of weight, and 6.18″ of length when zoomed out and 5.1″ when zoomed in.
Why Choose XT808 Over Other Flashlights?
There are hundreds or even thousands of other tactical flashlights available in the market today. What makes XT808 stand out and why should you choose it over others? Here are the reasons why:
1. Lightweight
Most people stay away from LED flashlights because they tend to be heavy. XT808 is only 4.9 oz in weight when batteries are taken out, which means it won't weigh anything when placed in your backpack. It's also easy to carry and hold, making it convenient to use when you need to.
2. Doubles as a Defensive Tool
As mentioned in the features, its beveled-end edge can be used as a defensive tool. The bright light itself can blind attackers at close range, and with the beveled edge, it gives you the peace of mind that your flashlight is a substantial tool to protect yourself.
3. Comes with a Free Tactical Box, Rechargeable Batteries, and Charger Unit
Primitive Outdoors wants to make everything easier for you by providing you with the batteries and charger unit so you won't have to buy them separately, and gives you a free box to place everything in one place.
Where Can You Buy the XT808 LED Flashlight?
The flashlight can be bought at Primitive Outdoors' official website by following the banner below. The price to buy one flashlight is great, but the more you buy, the greater the buying discounts you get.
The XT808 LED Flashlight is a lifesaving device that gives you the peace of mind that whatever happens and wherever you may be in the middle of the night, you'll have an incredibly bright beam of light to help you on your way.