Bug Out Bag Essentials: What You Need to Own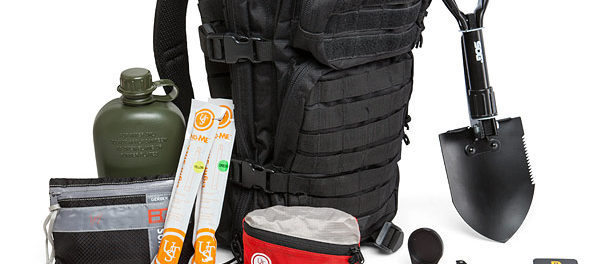 If you're serious about being prepared for the worst, having a bug out bag is critical. While making a bug out bag to prepare for the most disastrous of events is not too difficult, making sure you have the right essentials is a little bit trickier.
Bug Out Bag List
Fortunately, filling your bag with the most vital aspects — water, food, and protection — is easy once you know precisely what should go into your preparedness kit.
Before you start filling your bug out bag, be sure you've selected a good bag and have chosen one that will hold all the items you plan to store.
Essential Food and Water Items
For any bug out bag, you will need water as your absolute first requirement. While you can go without food for three weeks or so, you won't be able to survive for more than three days without water. At a very minimum you will need 1 liter for each person in your bag.
There are plenty of ways to get water — such as collapsible bottles, hard water bottles, metal bottles, and plastic bottles. You will also need water purification filters, systems and tablets to make sure that you'll have access to clean water.
Food is another critical part of your bag. Having plenty of survival storage food will ensure that you and your family are well-fed in the worst of situations. At the very least, you should have food enough to last for 3-4 days minimum. Ideally, you will also want plastic forks, spoons, and other cutlery items, as well as basic cookware.
Some items you should include for food include a portable stove and fuel, a cup and cooking pot, a can opener, and plenty of dehydrated meals, storage food, and energy bars with protein.
Clothing and Shelter
The climate you will be in largely plays a factor in determining what types of clothes and shelter you'll need in your bug out bag. Be sure to avoid plenty of dry clothes on hand because hypothermia is a serious danger when it comes to survival preparedness. You should evaluate your current bag selections at least 3-6 months to make sure your bag is packed thoroughly.
Some clothing items to include are lightweight shirts, underwear, pants and jeans, wool socks in at least 3 pair, ponchos and rain gear, gloves and work gloves, hats with wide brims, and fleeces of medium to heavy weight depending on climate.
For shelter, your bug out bag should have plenty of protection. Getting enough rest in survival times is key as you will likely need to travel and continue to remain resilient under duress.
You should include a wool blanket, ground pad, sleeping bags, tent, and tarps as part of your shelter requirements.
Heat and First Aid
Part of any bug out bag should include heat sources and plenty of first aid products. Your heat source should include tinder and flame, as well as a waterproof storage method so in case it gets went while traveling through creeks and rivers, you can still start a fire.
Your first aid package should include basic first aid kits, bug repellant, and a survival blanket if possible.
Toiletries and Hygiene
Making sure to be sanitized and clean at all times is essential for your bug out bag preparedness selections, as well. Try to include at the very least some camp soap, a pack towel and toilet paper, personal hygiene products, toothbrushes and toothpaste, napkins and hand sanitizer, and any other cleanliness preparation items you can think of.
Communications and Lights
For lighting and communications with the outside world, you will ned batteries, candles, a LED headlamp and keychain, as well as an emergency radio and crank power battery and charger. Try to include at least one cell phone as well. If you have solar power mechanisms, these are best to include in your bag since you can easily recharge them on the go.
Self-Defense
If you're in a bug out situation, you should consider carrying some type of self-defense tool. A small, concealable handgun is the best option since it can be utilized for hunting.
We recommend taking a look at the following handguns as part of your bug out bag essentials:
Glock 23: 40 caliber handgun that can be converted to 9mm.
At a minimum, you need a solid survival knife. We recommend the Ontario RAT-7. It's a fantastic survival knife! Solid, sturdy, and lightweight.
If you're looking for something you can keep on a tactical vest or in your pocket, you can use a tactical pen to protect yourself.
Conclusion
Having a fully-stocked bug out bag is key to preparing for the most difficult and trying times. By continually keeping your bag well-stocked with food, water, clothing, shelter, light, and first aid items, you should be prepared in the event of an emergency.
Be sure to evaluate the contents of your bag as much as possible to make certain you are always fully stocked and ready for the event of an emergency.