Inferno Lighter Review: Best Windproof Lighter?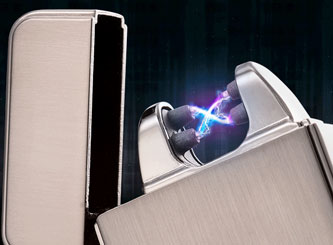 Designed by a group of exceptionally talented engineers, the Inferno Lighter was created in order to provide a tool that wouldn't use fuel the way most lighters do, but also be durable enough to hold up under pressure. These engineers made a unit that would be battery-operated and charge in just a very brief period if time. For this reason, the Inferno Lighter is one of the best choices for those who need access to a handy lighter on the go.
The Inferno Lighter's Design
Known as "the future of fire," this special lighter includes a number of excellent features. These include a 100 percent USB chargeable unit, including zero need for butane or fluid chemicals. It is waterproof and windproof, and also includes an electric dual beam lighting one touch unit. It is completely eco friendly and has no flame at all — and it is made of top quality aircraft level aluminum alloy casing, making it extremely durable.
This special lighter was designed to provide an alternative energy method for those who needed a quick lighter. A number of people known how destructive butane can be if you're exposed to it. It can cause cancer and other serious health problems. For this reason, smokers, survivalists, and campers need another solution to being able to quickly start a fire.
How it Works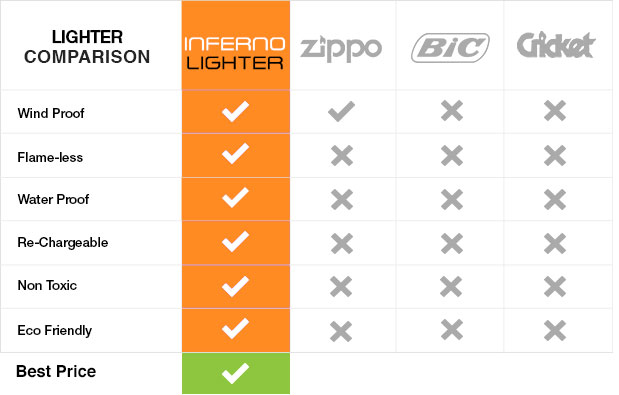 This lighter provides a special electric light that requires no fluid or chemicals to start. It's considered to be the future in terms of lighter technology and works as it's meant to, providing a usable alternative to normal butane lighters.
To operate the unit, simply activate the lighter by pressing a little button on its side. When you complete this electric circuit, you actually create a special current that will start a flow of electricity between the lighter's top points. When it's exposed to air, you create a source of heat. Now, simply by placing your cigarette, wood pile, or any other substance within the current, you can start a fire.
While it is not quite as powerful as open flames, a number of users like that the inferno Lighter doesn't experience the problems that fire does in terms of wind susceptibility.
Because of its extremely wide lighting area, the lighter can be used to light hemp wicks, candles, incense, and even cigars. Thus, it's a device that appeals to anyone — not just those who choose to smoke cigarettes or cigars.
User Reviews
A number of individuals who have tried the Inferno Lighter absolutely love this product. One user said she no longer has to pay for lighters anymore, and better yet, it's totally safe for her to use even having small children around. Another user used it to light her incense, finding that the process is now much easier.
One individual, who was a regular smoker, found that he could light his cigarettes without having to worry about butane anymore. He also loved that the device was water resistant, as he had a tendency of dropping his lighters or needing to use them in the rain. He loved that he could quickly charge the lighter and be able to use it on the go, rather than having to throw it away and buy a new one every time he needed to.
Advantages of the Inferno Lighter
Since this product doesn't use butane, but instead uses electricity, it lasts a lot longer — and it also protects user health and safety. It was created using a modern design and lightning speciality, so that it is both strong and durable, but also light.
The problem with butane is that it can cause depression, choking, larynx spasms, and even unconsciousness and suffocation in very bad conditions. One individual actually started to experience heart problems from repeated exposure to butane, and realized she needed to find another solution. Thanks to the Inferno Lighter, she no longer has to worry.
The lighter also makes life easier because you can carry it on your keychain, in your purse, or even in your pocket. Since it is both fluidness and flameless, there is no need to refuel or resupply the lighter.
Conclusion
The Inferno Lighter is rechargeable, windproof, and flameless, making it extremely easy to use and safe. It will last forever, and can be recharged quickly using a simple USB plugin. If you have been looking for a way to light your cigarettes and cigar, the Inferno Lighter is a cheap and easy way to do so — and it will prevent you from being exposed to the harmful effects of butane at the same time.