Spyderco Police Knife Review: Should You Invest In One?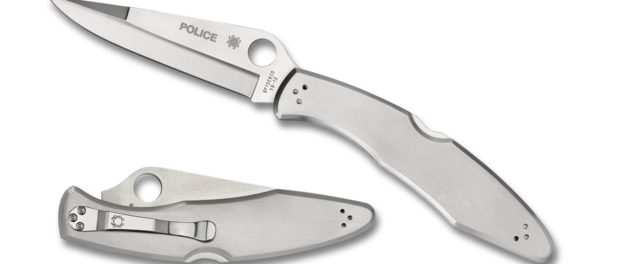 The Spyderco Police knife is one of the best comfortable pocket knives available. Thin, narrow, and easy to withdraw at any time for usage in a difficult situation, the unit is discreet and foldable. Providing security and safety while carrying the knife, the Spyderco Police is an excellent choice for serious security or those who simply need an edge when traveling. With its drilled down handle and tip down carry, the unit provides a safe way to quickly remove and brandish a weapon.
Spyderco Police Design and Ergonomics
The unit is made for both right or left hand carry and provides a gentle, natural curve that makes it easy to carry or hold compared to other units that might be straighter in build. The Spyderco Police knife makes it easy to remove from a pocket or blazer and get control of quickly. No matter what hand size you have, the handle is easy to carry. For larger hands, the handle will seem roomier, while smaller hands can quickly adapt thanks to the blade's special design.
Including a David Boye dent, spine swedge that reduces weight, and a trusted name in cutlery design, this unit is highly tested for durability and quality. Crafted entirely in the USA, the Spyderco Police knife is a great choice for all types of security.
Blade Construction
Designed using a heavy-duty, high-quality stainless steel blade, the Spyderco Police knife has a 4.12 inch blade that features a strong and thick tip. The swedge of the blade's spine helps to add to its strength and durability, while some serrations are actually so sharp that they can easily cut but still provide a smooth surface.
Grip and Handle
The unit's handle and grip are comfortable and designed in such a way that the weight of the blade is reduced while carrying. If you need a strongly ergonomic, simple to carry blade, this unit provides a grip and handle that get the job done.
Knife Locking Mechanism
The Spyderco Police knife features a special back lock that helps to provide a great mechanism for safety and security. To close the knife, just move the finger into the opening hole's right side and press down on the release mechanism. Then close the knife about halfway and remove your fingers while closing the knife fully. This is a simple and effective locking device that ensures fingers are safe.
Additionally, the lock's resistance is much stronger in this unit. Some previous models did not include as strong a closing and opening mechanism, but this back lock has been improved to provide the best possible design. Being 100% fully safe and secure for all types of usage, the unit provides against any type of failure or flaw in design.
User Reviews
Those who have tested out the Spyderco Police knife tend to love it. Unlike other blades, this one is very easy to sharpen and take care of. One user said that when he obtained a Spyderco for the first time, he started carrying it everywhere. Not only does it give him a sense of security and strength, but it's great for performing basic cutting tasks he needs to do on the job.
Another user said this knife changed his life. He lives in a dangerous part of the city and often felt too unsafe to walk to and from work. In very dangerous hours, he'd have to avoid going out at all which restricted his freedom.
However, after obtaining a Spyderco Knife, he's now able to travel wherever he likes and feel completely safe all the time. He recommends the knife to his friends and family while suggesting improvements to the company in how to make the knife better in its next iteration.
Conclusion
As an easy-to-maintain, affordable, and highly durable knife, the Spyderco Police knife is a great choice for all security enthusiasts or simply those who wish to have a little added weaponry. Safe to carry and use, this knife is durable, reliable, and made from the highest quality components. It is reviewed highly by users and maintains a strong warranty and company customer service policy to ensure that all purchases are backed and maintained by a satisfaction guarantee. If you're serious about staying safe while on your travels, this knife will make sure that the job gets done every day, no matter what time you're going out.