TL900 LED Headlamp Review – Tactical Headlamp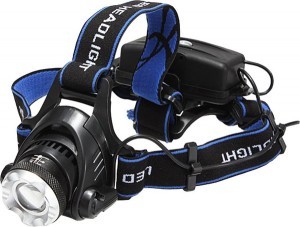 For an avid fan of the outdoors, a good flashlight for those evening jogs, walks, or bike rides is a definite must. The TL900 LED Headlamp is an incredible product that will definitely have you enjoying your late night adventures with no worry.
What is the TL900 LED Headlamp?
Made by the people behind Primitive Survivors, a leading provider of survival gear that ranges from backpacks to flashlights, this Headlamp will absolutely change the way you enjoy the outdoors.
The TL900 LED Headlamp Features
This high performance tactical headlamp is packed with all the features you need to make moving around in the dark absolutely easy to do. It's durable, waterproof, and provides ample light no matter how dense the area is.
Let's take a look at its features:
Aluminum Alloy Casing
The casing around the flashlight is made from aircraft-grade aluminum alloy, which makes it super tough, waterproof, and long lasting. You'd want a headlamp that's durable to give you the peace of mind that in case you'd drop it, or if something heavy falls on it, you are assured that it can withstand the force and pressure.
100,000 Hours of Lamp Life
There's no need to change batteries every now and then since this headlamp contains a rechargeable battery that can give you 100,000 hours of lamp life. The batteries are rechargeable, too, so you won't be spending anything else once you buy this product.
Comes in Four Modes
You can use this headlamp using any of its 4 modes: strobe, high, low, or SOS. The battery box displays a red light to indicate which mode you're using.
Zoom Capacity
The headlamp's beam can focus at a maximum zoom of 2000 more than it's normal focus. You can choose from normal, up to x250 zoom, to 500, 1000, and 2000.
XM-L T6 LED Emiiter
Provides an output light of 800 to 1000 lumens.
90-Degree Tilt
If you're exploring in a cave or simply want to beam light through a dark trail, this headlamp's angle can be adjusted up to 90 degrees.
The headlamp is packed with features that allow you to use it for a variety of different applications. For emergency situations, it's a great tool for search and rescue operations; for industrial settings such as in mining and manufacturing; and for outdoor adventures such as for camping, biking, jogging, and hiking.
The Benefits of the TL900 LED Headlamp
So why use this top quality headlamp? Here are the benefits you'll expect to enjoy:
1. Stable
The headlamp straps over the top of your head and around the sides, making it secure and stable no matter what adventure you're having.
2. Hands-Free Lighting
The advantages of using both of your hands while out exploring is absolutely heaven-sent. You may be biking on a trail in the woods, or simply heading out to relieve yourself while out camping – having the liberty of using both of your hands will provide you with the convenience and the ability to keep safe from possible accidents. And with the simple nod of the head, you can easily direct light to whatever direction.
3. Compact and Lightweight
Who knew that you could use a LED bulb for a headlamp? Most people stay away from LED head gear because they're notorious for being bulky and heavy. The TL900 LED Headlamp is specifically made to be compact and lightweight so you can wear it on your head for hours without any strain on your head or neck. You won't have headaches with this number since it's light and easy to wear.
4. Durable
As mentioned, it's made with top grade materials such as the aluminum alloy, making it a tough cookie when it comes to its usage. And the fact that it's water resistant makes it ideal to use even when it's raining.
The Verdict
The TL900 LED Headlamp is currently available online only. You can get one from Primitive Survivors' official website, where it is sold at only $59, which is 75% off from its original price. The offer is on a limited time period so it's an exclusive promo from the company while supplies last.
The company also offers more savings if you buy more than just one headlamp. If you're planning a camping trip with friends or family, buying in bulk is a great money-saver. And if you're a manufacturing company that wants to keep its employees safe and doing their job with utmost precision, then getting your supply from Primitive Outdoors is a wise investment with their bulk discounts.
The fact that the headlamp uses LED bulbs, has 4 different modes, is made of aluminum alloy, and features a rechargeable battery makes it the ultimate solution for all of your nighttime adventures.